Hiya My Sweet Sweet Lovelies,
Oh, how I have missed you all, I hope each and every one of you are doing well. I was getting a little worried that I wouldn't be able to participate in
"Where Bloggers Create"
party. Naughty me leaves everything until the last minute and because I didn't get my creative space done before I went away I can only show you a part of it. I didn't take in to account that I wouldn't be able to do much after having my operation...I'm such a dill!
I hope you all have a super sweet inspiring time visiting each others Creative Spaces, I'm so looking forward to being inspired by you and your Creative Spaces.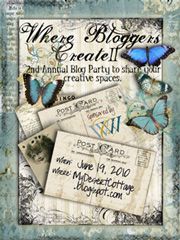 Thank you ever so much Karen, for making this all possible. I can't even begin to imagine how much work you've put into this wonderful event, you're a treasure!!
Sweet Lovelies, there are hundreds of wonderful Creative Spaces to see so please pop over and see sweet Karen, at
My Desert Cottage
and all of the other lovely participants of
"Where Bloggers Create".
Faux pearls

Pearls, gloves and flowers
Inspiration board
another inspiration board....can't have too many of them ;)

My beautiful Nana on her wedding day
Bits of this and that and a few charms
My solder station
My Dad painted the vice and glass cutter pink for me...isn't he lovely!?
My desk!
Have a super duper sweet day and don't forget to tell those you love just how much they mean to you :)
Love & hugs